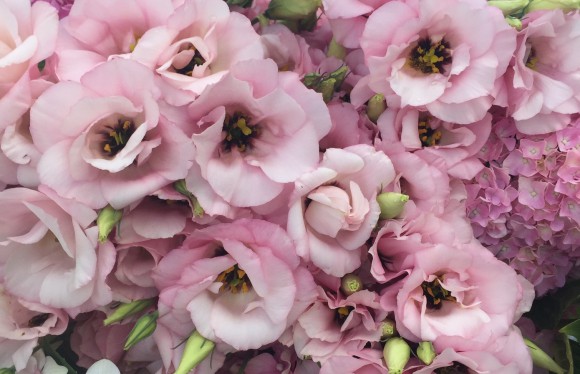 We have another summer beauty to highlight for you all this week, the lovely Lisanthus!
We grow these elegant blooms in cream, pink, lavender, and dark purple varieties but you can also find them in green, dark rose, and some bi-colored varieties. There is lots of love for Lisianthus so we expect to see new colors coming out every year. We are hoping to grow some new colors in the coming years.
Lisianthus are an annual and must be planted outside after the fro
st.  They can take their time growing but we think they're worth the wait. They prefer to have some sort of support such as netting or stakes (as pictured on the right). Left to themselves they cannot tolerate wind very well and will topple over or will grow curvy, short stems.
Lisianthus are great for cutting because they can last a long time in the vase and compliment other flowers very nicely.
Each stem has a lot of variety within itself, with several blooms at different stages and plenty of buds. The smaller blooms and buds work great for boutonnieres!
If you love cut flowers, you will definitely not be disappointed by this lovely bloom! Here are some more pictures of how we've used lisianthus in bouquets and for events. Enjoy!